There is no better way to make memories that will last a lifetime than by finding the perfect honeymoon destination. Which, of course, is easier said than done! This list will help you discover the honeymoon cabin of your dreams. Whether you seek the peace and seclusion of nature, a cozy and rustic experience, a modern take on classic design, or even a combination of all three, Hocking Hills has something for everyone. Read on to find the Hocking Hills cabin that will take your romantic getaway to the next level.
Inn & Spa at Cedar Falls Cottage
Make your romantic getaway a memorable one at this charming cottage. Nestled within the forest, you'll have all the peace and privacy you want. You can relax on your private deck while you take in the beautiful scenery, or watch as the stars come out at night.
Inside, the homey décor and plush king-sized bed will provide you with a sense of welcome comfort. The whirlpool tub is a perfect place to unwind with your loved one. And to top it all off, a delicious complimentary breakfast will be waiting for you every morning.
"Take a Hike" Cabin
If you plan to bring your furry friend with you on your getaway, this cheerful cabin has you covered. Located within hiking distance of Old Man's Cave, you'll have ample opportunities to explore the wilderness. Once you've had your fill of outdoor fun, the comforts inside await you. The cozy dining and living area features a wood-burning stove, perfect for gathering around at night.
You'll also find two well-appointed bedrooms—one with a queen-sized bed, the other with two twin-sized beds—a full bathroom, and a grill out on the deck.
Log Cabin in the Heart of Hocking Hills
This intimate log cabin makes for the perfect honeymoon destination. With hiking trails right outside your door and nearby points of interest like Airplane Rock and 21 Horse Cave, you and your special someone can enjoy countless adventures in the great outdoors. The cabin itself is fully stocked with all the amenities you desire, while still maintaining a warm atmosphere.
Fully renovated, the wood interior is both rustic and cheerful. Features include a cozy queen-sized bed, full kitchen and bath, a spacious dining area, and a private deck with a hot tub.
Pine Grove Cabin
Spend your honeymoon in the comfort and seclusion of nature at this gorgeous cabin. Featuring a bright and pastoral interior, this cabin will become your home away from home. The full kitchen and dining area, comfy living room, and two queen-sized beds offer plenty of space and utility for your stay.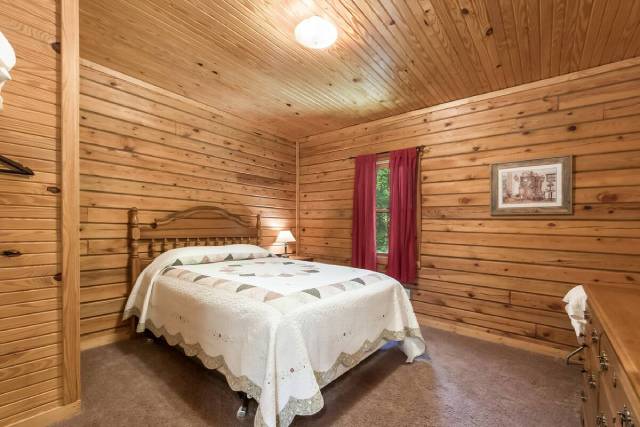 You'll can also enjoy some rustic touches, such as the log rocker and the swing on the covered porch. Grill up a meal on the deck, or have a soak in the hot tub with your loved one. With the additional attractions of the Cedar Grove Retreat, such as a fishing pond and hiking trails, you'll never have a dull moment.
Deer Run Cabin
With all the conveniences at your disposal, you may not want to leave this awesome cabin. Tucked away among the trees, you'll have the peace and quiet you desire for your romantic getaway. The interior ambiance is inviting and soothing, with a mix of classic all-wood style and splashes of color. It features a full kitchen and dining area, a living room with a fireplace, a comfy queen-sized bed, a spacious bathroom, and more.
Outside, the covered deck has seating and a luxurious hot tub for you and your special someone. Whether you are hiking to nearby Old Man's Cave or simply taking in the scenery, this cabin is a honeymoon destination that can't be missed.
Cedar Grove Oakwood Cabin
This spacious and romantic cabin is the perfect choice for anyone seeking a luxurious getaway with their special someone. The large, covered wrap-around deck has lots of seating for taking in the view, a grill for cooking up your meal of choice, and a hot tub for unwinding in after a fun day of outdoor activities. Inside, you'll find a cozy and intimate space that doesn't skimp on the luxuries.
With open floor-plan dining, living, and kitchen area, the atmosphere is bright and warm. Relax in front of the fireplace on one of the plush couches. Gather around the dinner table for a delicious meal. Then, you can retire to one of the three well-appointed bedrooms, each complete with queen-sized beds.
The Lily Pad Cabin
Try something a little different with this chic tiny house cabin. This stunning destination has a lot of styles and plenty of space. You'll immediately be struck by its sleek, black exterior, a theme carried throughout the outdoor amenities, including a dining area, swing, and a hot tub. The interior is far more spacious than you might imagine.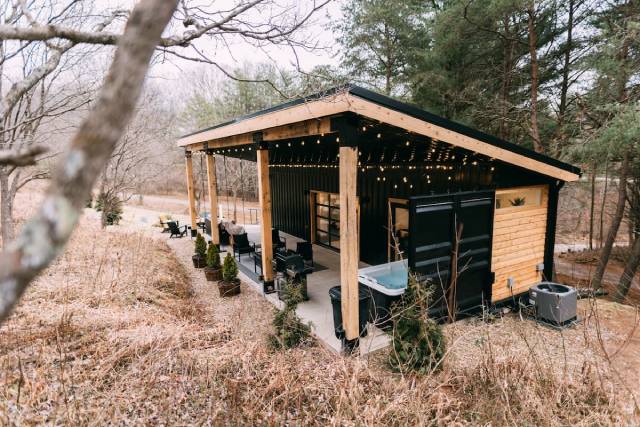 The modern décor creates a very luxurious atmosphere, and the unique motorized glass garage door means you can bring nature to you, without leaving the comfort of the couch. A fireplace, full kitchen and bath and a bedroom with a view are all included.
Whispering Pine Cabin
For anyone looking to bring their beloved pet on their honeymoon, this cabin is for you. Surrounded by wonderful natural scenery and numerous hiking trails, there is much to do and see. You can even take in the view as you drive to this lovely cabin. Once you arrive, you'll immediately be taken by its charm and style.
Outside, you can put up your feet on the spacious porch, grill up some food or take a dip in the hot tub. Inside, a spacious combined living-dining-kitchen area awaits you. Cuddle up next to the fireplace or hit the hay and enjoy the comfy queen-sized bed.